Pandemic birthday, there's something to wrap my head around.
Having a birthday during a pandemic wasn't anything I expected last year, yet here I am. Another year older and still in a situation that feels dangerous and often out of my control.
Pandemic Birthday Thoughts
Birthdays always make me feel a bit introspective, and this year is no different, not to mention the rules of the world have changed.
This will be the second birthday of mine after my father shuffled off his mortal coil. He died on October 19, so November 21 of last year was only a month later. It felt very silent not to hear his voice on the phone. Singing to each other was something we did every year, no matter where we might be.
I felt the silence back in July, when for the first time since I moved out of my childhood home, I didn't call him on his birthday as I had every year. Instead, Mom and I talked on the phone about my dad.
The void left behind. The complications of the man. Our loss. The meaning of grief.
The Holiday Season
My birthday also symbolizes the start of the holidays for me. The closest my birthday gets to Thanksgiving is the day before, as everyone couple years it falls on November 22. I always enjoyed when that happened because it meant family would gather and there would be comfort food and no impingement on birthday gift giving as a Christmas birthday might do.
Thanksgiving is also my favorite holiday. I love the food and the fact it doesn't require gifts.
When I was a kid, we often had family Thanksgivings, my parents, sister, cousins, aunts, uncles, grandparents . . . sometimes we had destinations. Warner's Hot Springs. Yosemite Valley. Places where snow would fall and other people would cook.
This year, my hubby and I will hunker down in our own home and Zoom in with family members. He promised to cook me an actual, traditional Thanksgiving meal. Did I mention I love the food?
Most years we do something non-traditional, because my step-daughters will have already been to traditional meals with their mom and the families of their significant others. It's always delicious, often crab, steak, and pasta, and I love our family tradition, but still . . . stuffing!
Last year we made a hilarious attempt at a traditional Thanksgiving dinner for the two of us on the day of. We do our "family" T-day on the weekend so aforementioned step-daughters and partners don't have to do three meals in one day!
We made a reservation for a fancy midday dinner. We arrived to discover it was their regular menu. The traditional Thanksgiving meal was only served in the evening.
How can this be? I asked, almost in tears. Everyone knows Thanksgiving dinner should be at like two in the afternoon so you can watch football and sleep on the living room floor in a food-stuffed coma!
A fellow patron, also bereft at the lack of turkey and stuffing and mashed potatoes with gravy, told us about a place up the street serving a Thanksgiving buffet.
It was a total time warp. The hostess was eighty if she was a day, and greeted us wearing a long leather skirt and heavy makeup. The restaurant was filled with what looked like extras from a low budget movie about the mob.
The cocktails could take paint off a station wagon and the food was exactly what I wanted. As if we were sitting in a midwest church basement, except the cooks looked more like they might all be out on parole.
The "floor show" between the patrons and the staff was totally worth it. I felt like I'd fallen into a Landford Wilson play. I still have dreams about that meal. Surreal film clips of yam casserole and chain smoking octogenarians with a wiggle in their walk and tattooed men who can cook like my grandmother did.
---
Pandemic Birthday Day
My birthday falls on a Saturday this year. Usually I would spend the day going to the bookstore to pick out a new book and have a coffee and a sweet at the cafe. I'd probably go over to Costco and buy myself new fuzzy pajamas.
There would be a dinner with my step-daughters, their partners, and my hubby. We'd likely go for Italian at Firenze in Bellevue (best Rigatoni All' Amatriciana in the world). It would be lovely.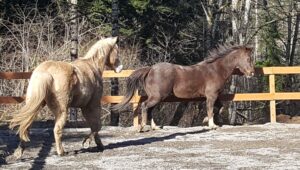 This year, I will likely buy a new book for my Kindle and bake myself a cake. I might hit the Starbucks drive through. Hubby and I will go to the farm and spend time with the horses. The weather report says we might get a break from the rain.
It will be a quiet day, which is how I like my life. I'll miss not seeing my two step-daughters, my son-in-law, my oldest step-daughter's boyfriend. I'll miss that Mom can't fly up to be with us as she has in the past.
I'll miss not being able to fly down and see my dad, who couldn't travel the last few years of his life because of the Parkinson's. I'll miss the family members no longer with us, the aunt, uncle, grandparents who have also shuffled off their mortal coils.
---
Pandemic Birthday Thankfulness
But I have so much to be thankful for. First and foremost, my beautiful granddaughter Rayna. She was born in February and I got to hold her before the pandemic set in. I'm thankful for socially distanced visits and watching her grow over Zoom.
I'm thankful for Wyatt. The missing piece in our little family. We now have two dogs, two cats, and two horses. It makes our household feel complete.
I'm thankful that there are vaccines on the horizon, better cures, a chance to return to normalcy in 2021.
I'm thankful for my (knock on wood) continued health and the health of those closest to me.
I'm thankful for my Wednesday Morning Writing Workshop regulars, who give me something to focus on every week, I love their enthusiasm and joy in discussing writing.
---
Want to join us for my free Wednesday Morning Writing Workshops? Click the link here.
---
Pandemic Birthday Gratitude
But more than anything else, I'm grateful for another journey around the sun. The world is still a wonderful and remarkable place. The pandemic can't take that from us. Nothing can. As long as we are breathing, there is hope for the future, beauty in the moment, and connection to others.
Wishing you all a peaceful day. We are all in this together.
---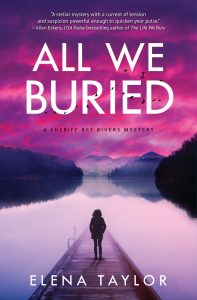 Elena Taylor is the author of All We Buried, available now in print, e-book, and audio book format at all your favorite on-line retailers. And don't forget many independent bookstores can order books for you and have them shipped to your home or for curbside pickup.
The E-book for All We Buried is on sale for $1.99 through the end of November! E-books make great virtual stocking stuffers!
For more information on All We Buried, click on the link here to visit the home page.