For kids during Covid, celebrating takes on a very different meaning than it has in past years. As I have no experience with children with or without a pandemic raging around the globe, I thought I'd check in with someone who knows a little bit more about raising kids. Welcome Courtenay Schurman to my blog! Take it away, Courtenay!
---
Celebrating the Seasons with Children during COVID by Courtenay Schurman
When Elena invited me to be a guest blogger, I was both giddy and nervous. How can I advise others who are struggling far worse than I am, during post-election, pandemic times? Here are some things that we have tried with our teenaged daughter. Perhaps some of these will resonate with you.
Movement For Kids During Covid
As a personal trainer, I am a firm believer in the power of exercise to cope with stress. We live a twenty-minute walk from my daughter's high school. I wanted to encourage her to keep that habit going so that if and when schools ever reopen (it will happen, the question is when), she would maintain the habit of walking two miles daily.
So, several days a week, we take our dog for a twenty-minute walk around the neighborhood before remote learning begins.
Not only does it give us a chance to discuss whatever might be bothering her, but it also keeps our brains sharp with some fresh outdoor air and exercise. I give her a pass if it's pouring or if she's left a homework assignment to the last minute.
If we get snow this year (we both adore snow) it will be tricky getting her back inside! One possible bonus to remote learning and snow: no snow closure days that have to be made up into summer.
Hiking, snowshoeing, biking, and urban walking are all great outdoor COVID-time ways to exercise for families. And if you can toss a frisbee or play badminton in your backyard, do so. We do!
Seasonal Joy For Kids During Covid
Seasons affect people in different ways, and this year may be particularly challenging, since family gatherings in most areas of the country will be limited to small numbers and outside whenever possible. But whether you are staying isolated or seeing a few people, there are still plenty of things you can do to celebrate the change of seasons.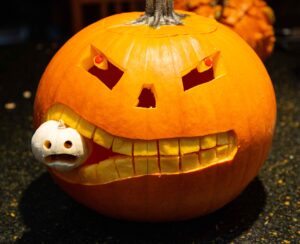 In October, we got creative with our pumpkin carving and tried out some new ideas we'd seen on the internet.  If you have fruit trees in your yard, you could try baking a scrumptious pie. My daughter tried her hand at her first "apple pi pie" complete with a lattice top.
On a neighborhood walk, try collecting interesting leaves for a decorative collage or place mat. Take your phone and shoot your teen in funny poses in front of seasonal decorations or lights in your neighborhood.
And if you like watching migrating birds, try slathering pinecones with a bit of suet or peanut butter, roll them in fine birdseed, and hang the ornaments from branches in your yard.
---
For other ways to celebrate the seasons, click the link here.
---
 

Expressing Gratitude With Kids During Covid

One of the daily rituals we share at dinner is saying at least one thing we're grateful for. That can be as simple as "I'm grateful it's the weekend" or as complicated as "I'm grateful to X for doing Y for me so that I felt Z." We started this habit when our daughter was in single digits, and now it's become a routine.

The gratitude shares have changed during COVID (we don't leave the house nearly as often as before, so they feel smaller, somehow) but sharing that we're grateful for some small chore (unloading the dishwasher without being asked) or a kindness one of us did for someone else in the household (finishing construction on the deck; buying Sumo Mandarins or roasted nuts for a delicious treat) keeps us gentle, patient, and respectful around one another even in our extended isolation.
Think Outside the Box With Kids During Covid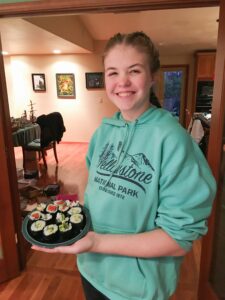 It's easy for patience to wear thin. Family traditions may have to change because of forces beyond our control. But if we can put some energy into thinking of new ways to celebrate, we might surprise ourselves.
Instead of an extended gatherings for Thanksgiving, we plan to celebrate gluten-free with a sushi appetizer, roast duck, scalloped potatoes, and one of my daughter's signature pies with one friend "within our bubble."
A literary colleague of mine was planning on keeping her Zoom link open to family members to "drop by" while she listened to holiday music and decorated her home, kind of like hosting a virtual "open house."
Not feeling particularly festive? How about turning on some peaceful, calming music?
---
---
Connections For Kids During Covid
Teens need their friends. When my daughter turned sixteen in May, my husband and I found a few creative ways to celebrate with her.
We contacted one of her favorite teachers at school who agreed to host a birthday party on Zoom. Her French teacher held a crepe-making class. And, we lassoed my extended family together for a weekend Zoom.
While it was not the birthday we would have otherwise planned, she still got to connect with important people.
"It takes a village" may be cliché, but it's really true. We are social creatures. We simply cannot get through these tough times in isolation.
Zoom might not be the same as face-to-face or as satisfying as a warm hug, but it's better than nothing. And until things improve, why not try hugging a tree?
---
---
Coping with School / Grace Space For Kids During Covid
Finally, talk with your kids. What's frustrating for them? What could you be doing better or differently?
When my daughter told me she was distracted by her parents walking in and out of the kitchen area where she has her computer, we agreed to do morning chores before, after, or between her Zoom classes, delaying the dishwasher, and minimizing foot traffic.
Since her educational experience is our top priority, we make do without a camera for some of our calls or move downstairs where we won't disturb her. We offer to help with meals if she's pressed with homework deadlines.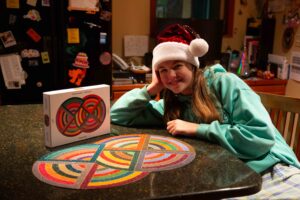 We also try to maintain one of her other favorite high school traditions, stopping by the library to work on the weekly jigsaw puzzle, by keeping one available on the kitchen counter if she needs a study break.
We all need to make sacrifices. But if we can focus on small wins and happy moments that we give each other every day, we'll all make it through this unscathed.
So, hug a tree. Enjoy the beauty and bounty that Mother Nature shares with us every single day.
And as Elena pointed out in another blog, "This is not the new normal. This is only the new now."
---
About Courtenay Schurman, MS, CSCS
Courtenay writes novels for children and loves taking her dog, Ajax, on long hikes. She is co-author of The Outdoor Athlete and trains people at all levels to excel in mountain sports such as hiking and climbing.
She ran the Family Activities group for the Seattle Mountaineers for four years. To learn more about outdoor activities you can do with your children, click the link here.  She loves to answer training questions of all kinds at court@bodyresults.com.
---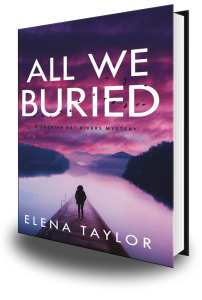 Elena Taylor is the author of All We Buried, available now in print, e-book, and audio book format at all your favorite on-line retailers. And don't forget many independent bookstores can order books for you and have them shipped to your home or for curbside pickup.
The E-book for All We Buried is on sale for $1.99 through the end of November! E-books make great virtual stocking stuffers!
For more information on All We Buried, click on the link here to visit the home page.