The author… 
Thrilled to have crime writer Matt Coyle join me today. Matt grew up in La Jolla, California. He earned a degree in English (he says he smuggled it out) from the University of California, Santa Barbara.
Matt sold golf clubs and worked in restaurants and the sports collectible business. He lives in San Diego with his yellow lab, Angus, where he writes the Rick Cahill crime novels. To learn more about Matt, visit his website by clicking here.
You can also follow him on TWITTER,  FACEBOOK, and GOODREADS
Welcome, Matt!
---
The Interview…
Your voice is unique and yet reminiscent of classic noir – how did you develop your style? 
Thanks. I think voice comes a little from influences and a lot from craft. I read Chandler and Macdonald when I was a teenager and in college. They are certainly a big part of my foundation as a writer. The other part of voice is putting the time in. It took eleven years from first words on a floppy disk to publication. Along the way there were four or five revisions. In those revisions was the genesis of my "voice."
As you get ready to launch the fifth book in the Rick Cahill Series, how has your writing life changed since the launch of book one?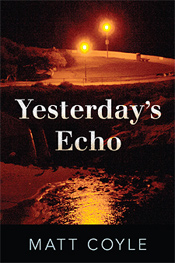 I'd like to say I've gotten more organized and the writing has gotten easier, but neither are true. When I start a book, I jot down a few ideas on paper, but I don't outline. My writing is process is, ah, let's call it, organic. (My term exactly, Matt!) I start with an inciting incident that will emotionally pull my protagonist, Rick Cahill, into the story. Generally, I've had a good idea what the ending is going to be and I just need to find interesting and logical ways to get there. However, in writing the last two books, Wrong Light, and number six which I'm writing now, the endings have been a bit nebulous at the beginning of the writing process.
I think it worked out fine with Wrong Light. We'll see with number six.Despite my growing disorganization and lack of a clear path, I have this stupid confidence that I can make it all work out in the end because I've done it before. I test that confidence daily, but just roll with it and accept that this is my process.
One thing that I think makes writing each book a tad easier is that my first drafts seem to improve with each book. That's comforting when you're staring down a deadline.
Your first book did extremely well both critically and commercially, including an Anthony Award and making Amazon's Weekly Bestseller List. Did these accolades give you confidence for the next book? Or did it set the bar high for your own expectations?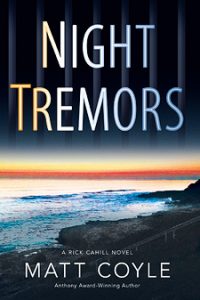 Good questions. I don't think the Anthony gave me any extra confidence as I was writing Night Tremors. The Amazon Bestseller list came a couple years later on a Kindle sale. However, the Anthony did probably help raise expectations. I'll always have my own set of expectations for each book. If not better than the last, I want it to be worthy of the series. I think the Anthony Award made me more cognizant of not letting my publisher and readers down.
The Anthony definitely gave me a boost in visibility, which has helped with getting other accolades. I have plenty of shortcomings, but I'm not going to throw out false modesty regarding my books. I'm proud of every one of them and think they deserve whatever notoriety they've received. However, I realize I was lucky to be noticed right off the bat and that's given me a boost in building a career. There are a lot of talented writers who haven't been as lucky as I have.
Tell us about your path to publishing your first novel.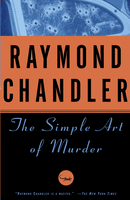 I don't think we have enough space to cover my path to publishing. It would take about three blogs. However, here's the Reader's Digest version: I knew I wanted to be a writer ever since my father gave me The Simple Art of Murder, by Raymond Chandler when I was thirteen or fourteen. It took me thirty years to realize that you actually had to write to become a writer. I started writing the book that would become Yesterday's Echo when I was forty-three.
It took me six years of putting together a manuscript that was submittable and five years of rejections and four or five revisions before I got an agent. Five months later, I had a book deal. I would have liked to have been published earlier, but am thankful that an earlier version of the book wasn't published. If it had, it wouldn't have been as good as the book that was eventually published and I don't think my career would be at whatever level it is today.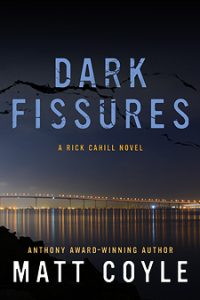 What are the best and the worst decisions you have made in your writing career?
I hope I haven't made the former and have already made the latter. Maybe the best decision to date was to revise my first book one more time after yet another rejection and after I'd already started writing book two. The worst decision was probably waiting so long to actually decide to start writing and be serious about it.
What are you working on now?
The fifth Rick Cahill Crime novel, Wrong Light, comes out this December. Right now, I'm sitting in a motel room in Santa Barbara where I'm researching and writing book six in the Cahill series.
---
"Join writers' organizations and go to writers' conferences where you'll meet other people at various stages of the career you've chosen and all understand its unique journey."
---
Final words of wisdom: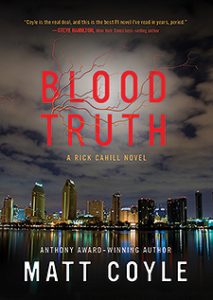 Write. Write when it's easy (is it ever?) and write when it's difficult. Write when you can find so many other things to do instead of write. Join a writers group. You need other people to tell you if your writing the book you think you're writing.
Join writers' organizations and go to writers' conferences where you'll meet other people at various stages of the career you've chosen and all understand its unique journey.
And agree to do blogs with nice people who are giving you an opportunity to reach a greater audience.
Thanks, Elena!
---
Thank you, Matt! Great to have you join us here today!