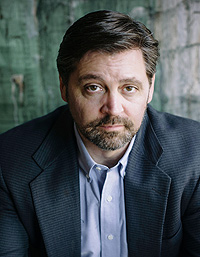 Allen Eskens grew up in the wooded hills of Missouri and, after high school, migrated north to pursue his education. He acquired a Bachelor of Arts in journalism from the University of Minnesota, and a Juris Doctorate from Hamline University School of Law. He honed his creative writing skills in the M.F.A. program at Minnesota State University and took classes at the Iowa Summer Writing Festival and the Loft Literary Center in Minneapolis.

THE LIFE WE BURY, Allen's debut offering, was named the Best Debut Novel of 2014 at the Left Coast Crime Conference, winning the Rosebud Award. The Life We Bury was named a finalist for the Edgar Award, the Thriller Award and the Anthony Award for Best First Novel. It was also named a finalist for the Barry Award for Best Paperback Original novel and the Minnesota Book Award for Best Genre Fiction.

THE GUISE OF ANOTHER, Allen's follow-up novel, tells the story of Max Rupert (one of the secondary characters from The Life We Bury) and his brother Alexander. Both are detectives with the Minneapolis Police Department and both get pulled into a dangerous cat-and-mouse hunt for the truth about a dead man with a secret past.